---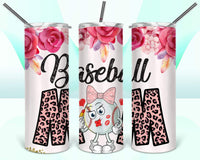 Baseball Mom ready to press tumbler transfers for 20 oz straight and  tapered tumblers.
The finished design measurements are 9.3 x 8.2 inches 
This is NOT a digital product and you will NOT receive a tumbler. You will receive a sublimation transfer that is ready to press onto a tumbler. This is for the straight style, NOT tapered!

We use high quality inks and paper, so you'll receive transfers that press beautifully!

Please note:
*Sublimation transfers require a HEAT PRESS to be applied. Some people use shrink wrap and toaster ovens. If using this process we do reccomend that you do not use it afterwards for personal use. Whatever you secide to use you need a temperature of 400 degrees and medium pressure or secure even wrapping

* Transfer must be used on a tumbler that is sold specifically for dye sublimation 
Design is printed on 8.5x11 sublimation paper and may require cutting
Sublimation according to Wikipedia is:
the transition of a substance directly from the solid to the gas state, without passing through the liquid state. Sublimation is an endothermic process that occurs at temperatures and pressures below a substance's triple point in its phase diagram, which corresponds to the lowest pressure at which the substance can exist as a liquid.
But to make that more simple it's basically a type of ink that when put onto certain items such as polyester and heat is applied the image will transfer onto the product without any viny like feel!
What we do here at SubZeroSublimations is sell sublimation transfers so that you can make your own custom products!
FAQ:
What temperature do I set my heat press on?
We recommend setting your heat press somewhere between 350℉ and 400℉
How long do I press the transfer and how much pressure do I use?
We recommend that you press the transfer for one minute at medium pressure.
What kind of shirt/material should I use with a sublimation transfer?
Sublimation transfers on stick to polyester material we recommend that you use it on fabrics that are at least 65% - 100% polyester. However 100% polyester will have more vibrant colors.
Can sublimation transfers go on black?
No, sublimation transfers will not be able to transfer onto black or dark colored fabrics. It is best to stay away from dark fabrics and stick to lighter colors. Sublimation becomes part of the fabric by dying the polyester fibers.